* Aaminah means "women of peace and harmony" *
The Aaminah Desert Dancers bring the art of Middle Eastern dance to Bangor, Maine with classes, performances, and workshops.

Our shows add a fun, upbeat, and distinctive note to any function , and some of our dancers also perform bellygrams suitable for audiences of all ages.

For information on upcoming events, click above on performances. Don't forget to view our photo gallery full of pictures of our past shows, as well as the gorgeous pictures of our troupe dancers and student dancers!
This site also contains links to other Middle Eastern dance webpages, both commercial (music, clothing, accessories) and private (general information, other troupes, etc.).

So sit back, enjoy our pictures, browse our links, or check below for our
latest news.

Thanks for visiting!


What's new with the Aaminah Desert Dancers?

01/01/2004: www.aaminahdance.com
8/6/2003: Check out our new 2003 fall class schedule here.
5/19/2003: Our new summer class schedule begins on June 2, 2003
4/7/2003: Tickets to our May 3 show in Bangor are going fast!
11/25/2002: Stunning new pictures of our troupe dancers and student dancers in the "Our Dancers" section. Many thanks to Mira and to everyone who helped with the photo shoot! Here's a sneak preview: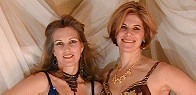 9/28/2002: New beginner's class in Orono on Tuesdays from 6:00 to 7:00 PM, starting October 8. More info here.

7/01/2002: New beginner's class in Bangor on Thursdays from 6:30-8 PM, starting July 11. More info here.

7/01/2002: Our "Summer Solstice" show was wonderful!
I'll post the pictures I have in the "photo gallery" section of this site and add more as I get them. Here's a sneak peek: