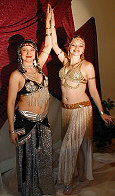 Our troupe dancers are as different as wildflowers in a meadow,
but every one of us loves the dance and has been transformed by it.
Click on the thumbnails below for larger pictures of each dancer.

We also have gorgeous pictures of some of our student dancers here.

For even more beautiful pictures, check out our photo gallery
of past performances here.