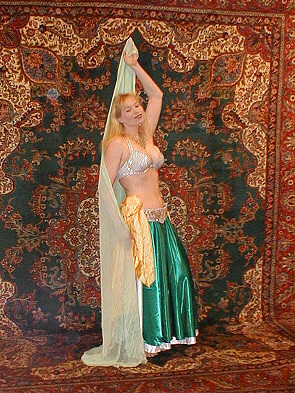 More pictures of Lorien here
"I was introduced to belly dancing in Germany by a vibrant, inspiring woman named Ulla Volz , who remained my teacher for ten wonderful years. When I moved back to the States recently, I was delighted to find a new dancing home with the Desert Dancers.

Belly dancing has given me a strong sense of my own passion, strength, and playfulness - and learning to move smoothly from my body's center has helped me center my life as well.
I prefer to dance without a set choreography, simply reacting to the music with slow, sensuous undulations, whirlwind twirls, or the ecstatic electricity of shimmies. Exhilarating, exhausting, and joyful!"